ICAR E-mail| e-office|Sparrow | Payment Gateway | Payment QR Code | Facilities
Institute
Brief about CRIDA
CRIDA was established during 1985 by upgrading the All India Coordinated Research Project for Dryland Agriculture (AICRPDA), Hyderabad centre to work on development of suitable technologies to enhance the productivity in rainfed areas. CRIDA, along with two All India Coordinated Research Projects namely on Dryland Agriculture and Agrometeorology with about 25 centres each located in different parts of the country, strives towards development and popularisation of location specific rainfed technologies for productivity enhancement.
CRIDA is a constituent organisation of Indian Council of Agricultural Research (ICAR), an autonomous body of Ministry of Agriculture, Government of India.
The Institute is one of the major organisations with in the Natural Resource Management Division of ICAR , responsible for carrying out the research for improvement of rainfed areas through resource management .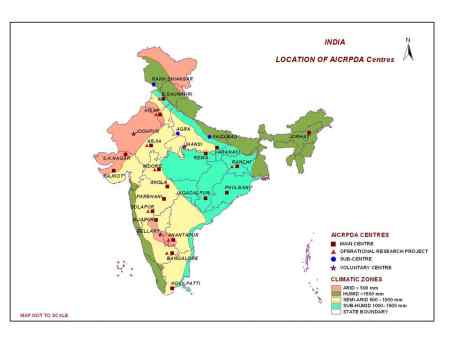 Centres of the All India Coordinated Research Project for Dryland Agriculture
| | |
| --- | --- |
| 01. Agra (Uttar Pradesh) | 14. Kovilpatti (Tamil Nadu) |
| 02. Akola (Maharashtra) | 15. Parbhani (Maharashtra) |
| 03. Anantapur (Anadhra Pradesh) | 16. Phulbani (Orissa) |
| 04. Arjia (Rajasthan) | 17. Rajkot (Gujarat) |
| 05. Ballowal Saunkhri (Punjab) | 18. Rakhdhiansar (Jammu) |
| 06. Bengaluru (Karnataka) | 19. Rewa (Madhay Pradesh) |
| 07. Bijapur (Karnataka) | 20. Sardar Krushinagar (Gujarat) |
| 08. Biswanath Chariali (Assam) | 21. Solapur (Maharashtra) |
| 09. Chianki (Jarkhand) | 22. Varanasi (Uttar Pradesh) |
| 10. Faizabad (Uttar Pradesh) | 23. Bellary (Karnataka) |
| 11. Hisar (Haryana) | 24. Jhansi (Uttar Pradesh) |
| 12. Indore (Madhya Pradesh) | 25. Jodhpur (Rajasthan) |
| 13. Jagdalpur (Chattisgarh) | |
Centres of the All India Coordinated Research Project on Agrometeorology
| | |
| --- | --- |
| 01. Agra (Uttar Pradesh) | 14. Kovilpatti (Tamil Nadu) |
| 02. Akola (Maharashtra) | 15. Parbhani (Maharashtra) |
| 03. Anantapur (Anadhra Pradesh) | 16. Phulbani (Orissa) |
| 04. Arjia (Rajasthan) | 17. Rajkot (Gujarat) |
| 05. Ballowal Saunkhri (Punjab) | 18. Rakhdhiansar (Jammu) |
| 06. Bengaluru (Karnataka) | 19. Rewa (Madhay Pradesh) |
| 07. Bijapur (Karnataka) | 20. Sardar Krushinagar (Gujarat) |
| 08. Biswanath Chariali (Assam) | 21. Solapur (Maharashtra) |
| 09. Chianki (Jarkhand) | 22. Varanasi (Uttar Pradesh) |
| 10. Faizabad (Uttar Pradesh) | 23. Bellary (Karnataka) |
| 11. Hisar (Haryana) | 24. Jhansi (Uttar Pradesh) |
| 12. Indore (Madhya Pradesh) | 25. Jodhpur (Rajasthan) |
| 13. Jagdalpur (Chattisgarh) | |